FORMER FIFA WORLD CUP WINNERS WHO HAVE ALSO PLAYED FOR RANGERS
Posted by

content

on Thursday, 20 October 2022
As Rangers battle on the club footballing front, there are plenty of eyes already on the unconventional winter FIFA World Cup in Qatar 2022. Ordinarily the tournament is played during the summer months in Europe but this time around the legendary tournament will take place in the cooler winter of the Middle East.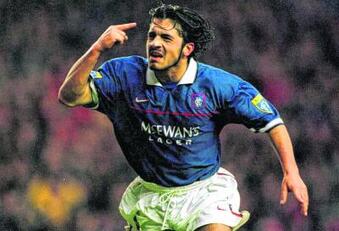 This time around there are five Rangers players lined up to go to the tournament in Qatar, but here we are looking back on the ex-Rangers players who have a FIFA World Cup winners' medal. There are three players who have won the World Cup and also played for Rangers, but it's interesting to note that no player has ever won the tournament whilst turning out as an Ibrox star.
Who are the ex-Rangers who've lifted the FIFA World Cup?
Two players from the World Cup winning France squad of 1998 later went on to play for Rangers, with back-up goalkeeper Lionel Charbonnier and forward Stephane Guivarc'h both seen in Govan.
Charbonnier – who joined Rangers from Auxerre just four days after the World Cup Final in 1998 – never played in the tournament in France but Guivarc'h did.
Stephen Guivarc'h played a prominent role as France's number 9 in the tournament and also joined Rangers in 1998, signing on at Ibrox via Newcastle United following a Golden Boot winning season in France with Auxerre the season before.
The striker even started the final and played over an hour, with France famously defeating Brazil 3-0 in Paris to win the tournament for the first time.
The other ex-Rangers player who has lifted the FIFA World Cup did so with Italy in 2006, as the tenacious Gennaro Gattuso played a key role in the Italians lifting the trophy.
The now Valencia manager spent a season at Rangers in the 90s and went on to have a prominent club career at AC Milan and earn 73 caps for Italy. The midfielder played the entire game in the Final of the Germany-based tournament with Italy defeating France on penalties after a 1-1 draw on the night.