Julen Lopetegui is confident that Pique is still committed to Spain
Posted by

content

on Monday, 6 March 2017
A few days ago it was confirmed and unveiled that Gerard Pique was going to hang up his playing boots for Spain as the veteran defender was going to retire performing at the international scene.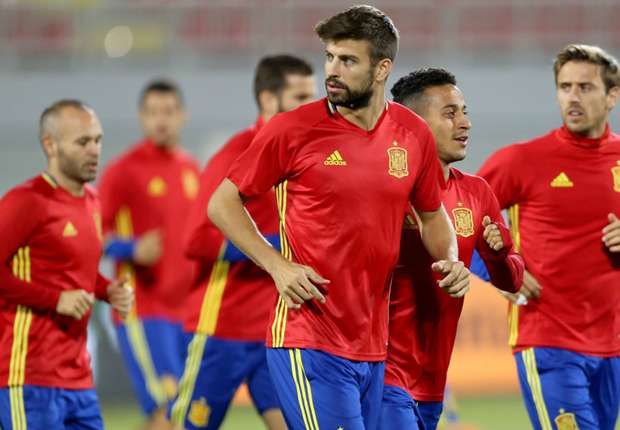 The head coach of the Spanish national side JulenLopetegui has recently confirmed that despite Gerard Pique's intention to step away from the international stage, the Barcelona defender is currently still committed to Spain and will do everything he can to end his playing career with Spain on a high note.
"Pique is a vital player, he is intelligent and very committed to the Spanish national team, I have no doubt about that. We need players like him, Sergio Ramos, Sergio Busquets, Jordi Alba, DaniCarvajal...They are consolidated in the group and each player brings in their personality and character'' Spain's JulenLopetegui said.

The Spanish national side is currently leading the way at the top of Group G of the 2018 FIFA World Cup Qualifications as they have collected 10 points from their opening 4 qualification matches played with a goal difference of +14 while Italy also have 10 points but with a goal difference of only +7.
Italy and Spain are the clear favorites of making it out of Group G in the top 2 qualification spots for the upcoming edition of the FIFA World Cup.
The 2018 FIFA World Cup will be the first time that Julen Lopetegui takes charge of Spain as the head coach, he has taken charge of the youth division of Spain on various occasions but never the actual main team and Lopetegui has the task of putting all the pieces of Spain together as the national side appears to still be hurt or affected from their disappointing campaign during the 2014 FIFA World Cup where they failed to make it past the group stages as they lost against: Netherlands, Australia and Chile.